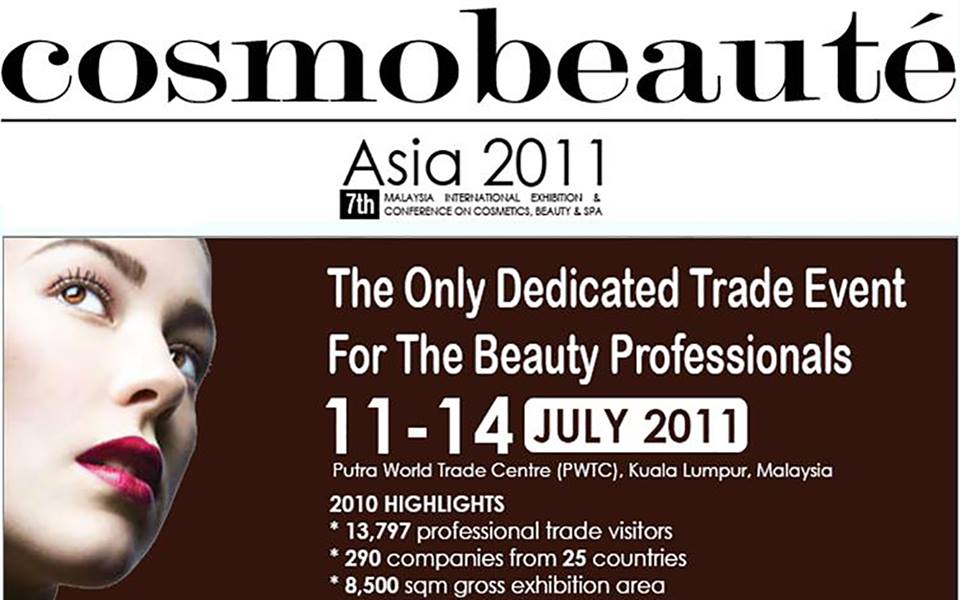 Discover Human Face Mites Treatment
Click here to see more images of Ungex at Cosmobeaute Asia exhibition 2011
In July 2011, Universal Green Experts Sdn Bhd participated in Cosmobeaute. One of Asia's largest, most important event for the beauty industry and spa sector. The event aimed to attract trade buyers from the region's beauty, health and fitness sectors, as well as top-end consumers by invitation. This was Universal Green Experts Sdn Bhd first public event in Malaysia and "Ungex" was to be introduced to the market. Visitors were invited for a free computerised hair scan analysis to check their hair scalp condition as well as for the presence of mites. They also explained the prevalence of Demodex mites among people and how to help them and many people Discover Human Face Mites Treatment. Ungex aimed at seeking out business partners, as well as introducing its products to hair care and beauty centres nationwide,and even worldwide.
Cosmobeauté has been the only platform for the beauty trade professionals within the Southeast Asia region ever since year 2005 where most beauty shows are consumer oriented in this area. Launched in year 2005 in Malaysia, Cosmobeauté has stretched its arms to Indonesia (2006) and Vietnam (2008), gradually recognised as the leading professional beauty trade exhibition in Southeast Asia region. Following successful editions in Indonesia and Vietnam, Cosmobeauté series of exhibitions is expanding to the next exciting destination – Myanmar and Thailand in 2014 to provide a premium sourcing platform for the beauty industry.
Cosmobeauté has been continuing its commitment to be the most proven sourcing platform for beauty trade professionals to explore business in the spectrum of beauty and spa industry. In order to optimize the platform for networking and business opportunities, Cosmobeauté endeavor to facilitate connections between exhibitors, importers, suppliers and visiting buyers through various initiatives. With the lined up events planned over the days of Cosmobeauté, you will have chances to explore latest trends and products from within all segments of the industry. Cosmobeauté also promises strong participation of both national and international group pavilions which give you the globalized perspectives on emerging trends all around the world. Cosmobeauté will be the multi-dimension platform for both exhibitors and buyers to connect with each other for a whole new beauty experience!