Demodex Treatment
Ungex Offers A Natural Skin Mite Solution
Most Skin Problems Are Linked to Mite Infestation, Ungex Offers a Natural Demodex Treatment.
---
Want to Know More about Demodex Treatment?
Ungex is a unique skin care business which specialises in helping those who suffer from hair loss and skin problems due to microscopic parasites called Demodex mites with a special Demodex solutions for acne treatment and other related skin and hair care requirements. Around 65 species of Demodex mites are known. Two species living on humans have been identified: Demodex folliculorum and Demodex brevis, both frequently referred to as hair mites, face mites, skin mites, body mites, eyelash mites, eyebrow mites, ear mites, human mites or hair follicle mites.
---
All You Never Wanted To Know About The Parasites Known As Follicle Mites!
Demodex mites are parasites that live in hair follicles. Studies show the Demodex hair mites to be associated with numerous types of skin complications, for example the mites have been identified as a leading contributor to acne, rosacea, red nose, pimples, blepharitis, seborrheic dermatitis, atopic dermatitis, eczema, pruritus, itchy skin, hair loss, androgenic alopecia, baldness, aging skin, rough skin, wide pores, freckles, spots, fine wrinkles, dermatosis, rash, discoloration on the face and other skin conditions.
While follicle mites may cause certain problems, it also is possible specific skin conditions become a breeding ground for Demodex mites. Besides, it's a major problem for dogs too known as Demodex canis, more commonly known as mange. Demodex is a genus of mite in the family Demodicidae. Demodicosis, also called demodectic mange or red mange, is caused by a sensitivity to and overpopulation of Demodex mites as the hosts immune system is unable to keep the mites under control. Hormonal fluctuations contribute to mite reproduction because these invertebrate insects obtain their steroids from the host. This contributes to high levels of Demodex mite population in the skin and hair. Want to know more about Demodex mites and their role in rosacea as well as the best Demodex treatment?
---
Mites Have Been Identified As A Leading Contributor to Hair Loss and Other Skin Conditions.
Recent research suggests that most people may have Demodex mites, usually asymptomatic in healthy people, but when there's a high density of mites residing within the human host - usually due to stress or illness (autoimmune deficiencies/ diseases) the person suffers negative effects with skin problems and hair loss. Unfortunately this is widely unknown to the public.
---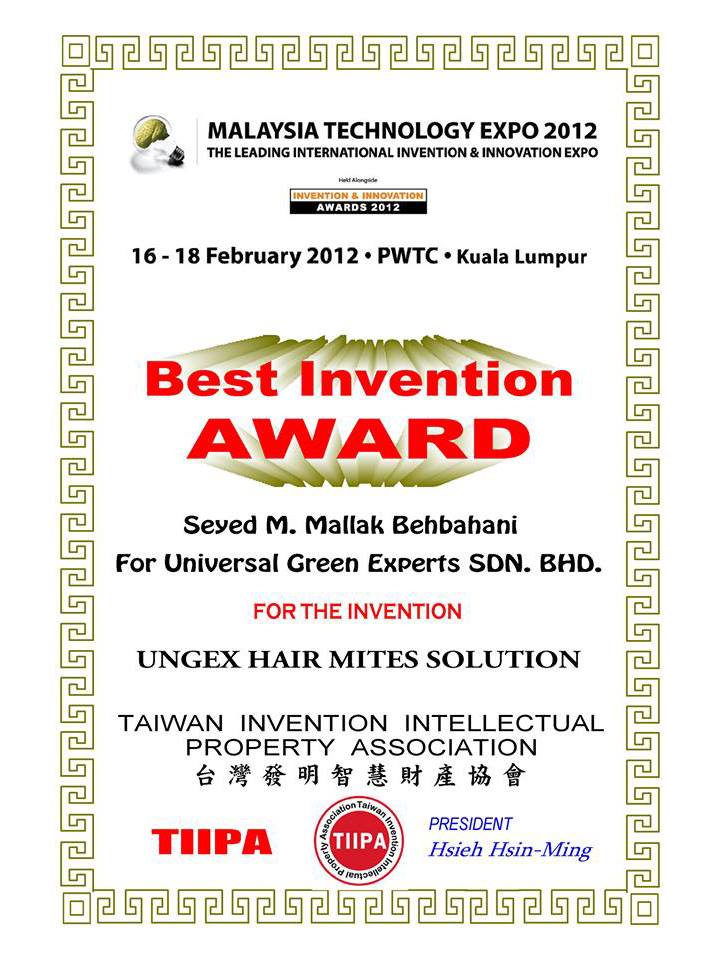 Ungex has received several business certificates and awards, including the 2012 "Best Invention Award" for the invention of 'Ungex Hair Mites Solution' to provide a natural/herbal-based care plan for this. Ungex products – unique shampoos, Treatment Hair Tonics and Pro-Demodex Treatment spray - work in conjunction to help eliminate all types of mites. Be part of the innovation to help ensure a safe, effective way of helping those who suffer from Demodex mites.
What Is The Ungex Demodex Hair Mites Treatment For Humans?
Ungex Pty. Ltd. offers the best Demodex hair mites treatment which is an essential solution for your healthy scalp, hair, skin and body. Ungex is in the personal care industry with its essential care plan, known as 'Ungex Hair Mites Solution'. Because face mites live under the skin for the majority of their lives, getting rid of them can be a lengthy, but necessary process.
---
Ungex's goal is to help eliminate all Demodex mites in an effective and safe manner with its unique Demodex hair mites treatment, also known as Ungex Protocol or Ungex Mites Solution. Click the button below to find a "Health Certificate".
---
Learn More About Hair Follicle Mites, Also Known As Demodex Mites.
Demodex Folliculorum and D. Brevis, Known as Hair Follicle Mites, Have Been Identified As the Leading Contributor To Many of Hair and Skin Problems. Both species are primarily found in the scalp, face, near the nose, the eyelashes, and eyebrows, but also occur elsewhere on the skin. Each has a semitransparent, elongated body that consists of two fused segments and eight short segmented legs, attached to the first body segment.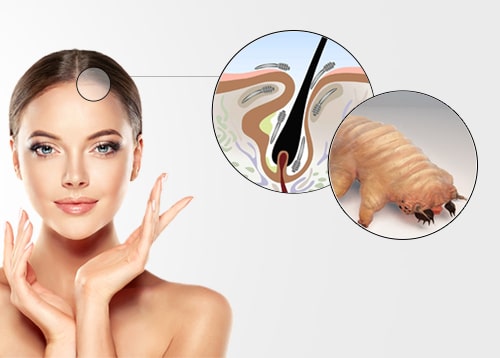 Demodex Treatment Is the Essential Solution for Hair Care and Skin Care.
Ungex Demodex Mites Treatment Is the Best Precondition and Pre-treatment in the Personal Care Industry. Because It Helps You Get Rid of All Types of Hair Follicle Mites to Have A Healthy Scalp and Skin.
---
Demodex Mites May Cause Certain Problems Throughout Their Lifecycle.
Demodex mites mate on the surface of the human skin at night, but the eggs are laid inside the hair follicles or sebaceous glands. The six-legged larvae hatch within a couple of days, and the larvae develop into adults in a week. The total lifespan of a Demodex mite is about 30 to 90 days. Older people are much more likely to carry more Demodex mites. In the vast majority of cases, if the Demodex mites go untreated then their population can dramatically increase, resulting in many different hair and skin problems such as the conditions known as demodicosis or Demodex mite bite, characterised by itching, inflammation, and other skin disorders. Blepharitis (inflammation of the eyelids) can also be caused by Demodex mites. Evidence of a correlation between Demodex infection and acne vulgaris exists, suggesting it may play a role in promoting acne, also may cause many other skin issues especially as the mites develop into adults.
---
A New Article 'Demodex Mites and the Potential Limitations Facing Patients Post Treatment or Surgery If Not Addressed'.
By Gregory Kirk, Founder of the Strand Clinic - Melbourne, Australia 19th October 2015
What are Demodex (folliculorum) mites? And are they good or bad? I wish I had stressed this more often over the years with colleagues, peers and mentors alike on the importance of ensuring each patient is free of Demodex mite infestation on the scalp skin, in hair tissue and deep in oil glands pre and post treatment or surgery.
---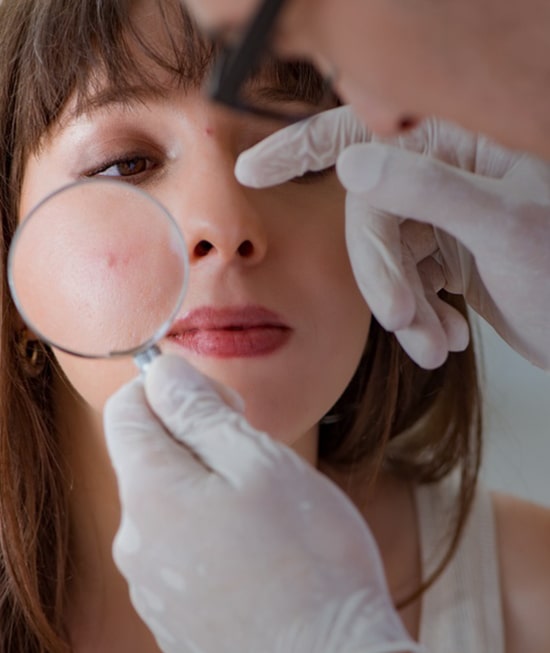 Surgery, Dermatology, Para medical practices, so many other crafts treating the skin, scalp and hair could advance if we are to identify a patient pre-treatment or surgery of the degree they are host to mites either on the scalp , facial skin or nestled in hair cuticles. As clinicians, practitioners and staff we should be free of Demodex mites in health and practice. Upon a bit of research I am confident you will see the importance of this adventure into understanding scalp and face mites, why I stress in especially treating patients with high counts of Demodex, their follow up treatments and prevention.
I see why Demodex are over looked and misunderstood, for those of us who know what they and those of the other 95% in healing skin, scalp or hair really have no idea what a Demodex mite is or what it is capable of doing to skin and hair along with other potential health risks for that matter. Because we are all a host to these microscopic cheeky mites that vary in characteristics. They are all part of the same family though, each will find a liking to reside on one part of the body over another and one creature over another with some really amazing forms and shapes, eyes, mouths, rectum and genitals. Pretty amazing.
Research now leads us to conclude from heavily supported data in clinical observations these mites certainly contribute to hair loss and scalp disorders by feeding and surviving on the nutrients that our skin and hair needs to function.
Read the rest of the article through click this button...
---
Human Mites Are Parasites Quickly Develop into Adults, Responsible for Some Possible Specific Skin Conditions.
---
Atopic dermatitis, itching, pimples, acne rosacea, aging skin, rough skin, spots, fine, wrinkles and face mites bite.
---
Mite Solution Is No Illusion! We Sell The Result, You Buy The Guarantee!
Treatment Products of Ungex Pty Ltd Help Eliminate the Demodex Hair Mite as A Helpful Change in Personal Care Industry.
Ungex helps you treat all types of human follicle mites known as Demodex folliculorum and brevis on your face, eyelash, nose, ear, eyebrow, scalp, skin and the whole body. If you are suffering from any types of hair or skin problems, please view the portal of the main website of our company or contact us for more information.
The Ungex range of products are of the highest quality ingredients, and we work hard to perfect them to be both safe and effective, without any nasty additives that a lot of other conventional products use today. Those suffering mite infestation are often troubled by hair and skin issues; our mission is to assist in reducing these problems with zero side effects and a formula gentle enough for everyday use. Throughout your Demodex Mites Treatment related research, you may have heard Ungex refer to our products as a 'pre-treatment' or 'pre-condition' to hair care and skin care. Today, we are going to delve into this notion a bit deeper and explore the holistic approach we take to provide the first and fundamental step to hair and skin health.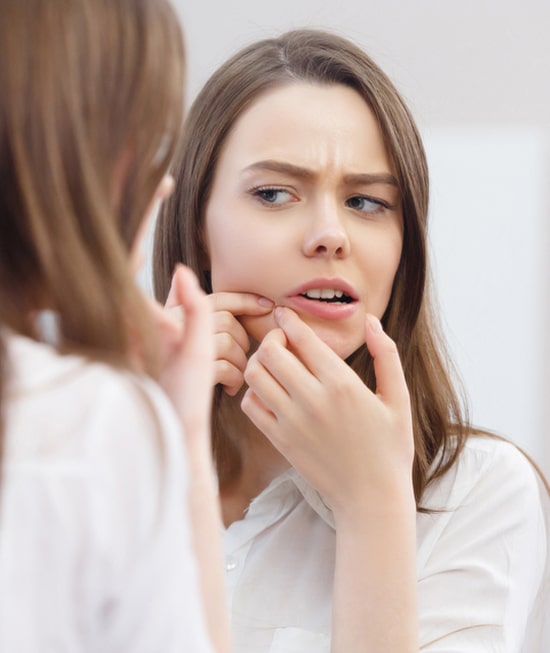 It is necessary to eliminate hair and face mites prior to seeking any treatment for skin or scalp based issues. Demodex mites act as a barrier for topical treatments on the skin.
Attention, it's here: Our new blog post is live on - click here below button
---
By Gregory Kirk, Founder of the Strand Clinic - Melbourne, Australia 19th October 2015
The Most Priceless Solution Ever! Demodex hair mites revolutionary system is a must for healthy hair, scalp, skin and body. Ungex protocol treats all types of human mites. If you'd like to know more about the Demodex treatment and keep up-to-date with Ungex news and offers you can follow us on our Websites, Facebook, Instagram and other social networks. Thanks for being a part of the Ungex global network.